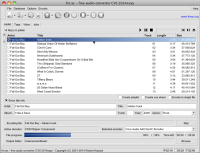 In the past three weeks I implemented the Core Audio encoder component. I'm already testing AAC and ALAC encoding and most of it is working really well. The new component will replace the FAAC encoder on systems where Core Audio is available. Unfortunately on Windows, Core Audio will only be supported in the 32 bit version of fre:ac as Apple does not provide 64 bit versions of the required Application Support DLLs yet. The 32 bit version will be able to make use of the new encoder if either iTunes or QuickTime is installed on your system.
Core Audio aside, I worked on some other areas as well. The OS X version of fre:ac now supports drag & drop, so you can drop files or folders on the main window to add them to the joblist. I'm still working to implement the same for the Linux version and expect it to be ready for the next snapshot.
I also added support for ripping audio hidden before the first track of some audio CDs. This is known as hidden track one audio or HTOA. fre:ac will show such hidden tracks when adding respective discs to the joblist. However, whether you can actually rip them depends on the capabilities of your drive. Some drives return only empty (silent) sectors when trying to rip such hidden tracks.
Furthermore, I made CD ripping work on OS X so you can finally rip if you are using fre:ac on a Mac. At this point, however, CD drives are detected only if a disc is inserted when starting fre:ac. This will probably change in the future.
The problems with the V8 JavaScript engine on OS X Leopard have been resolved as well. Turned out I simply had to compile it using GCC 4.2 instead of 4.0 for it to work. This means that the video downloader will be available on Intel Macs running Leopard starting with the next snapshot. PowerMac users will have to wait a little longer as baseline V8 does not support the PPC architecture yet. There is an IBM funded project to port it to these processors though. Their version just doesn't support OS X yet.
All of the changes I talked about are available in CVS now and I expect to be able to release a new snapshot in February or March.